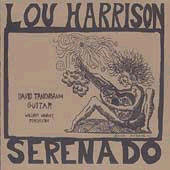 New Albion Records has released Serenado-Lou Harrison (NA 123), containing the complete solo guitar music plus arrangements from harp and piano, performed by David Tanenbaum. The CD features the first recording of the final guitar piece, Scenes from Nek Chand, which was dedicated to Charles and Carol Amirkhanian and to David Tanenbaum. The work, premiered by Tanenbaum March 7, 2002, is for National Steel Guitar, in DADGAD tuning.
Some reviews:
So far, this is my cd of the year.' T. Hashimoto, San Francisco Examiner
'superlative…a delectable collection of Harrison's gutar pieces performed with vigor and sensitivity by David Tanenbaum.'Joshua Kosman, San Francisco Chronicle
'It is no surprise that following the death of Lou Harrison, one of the great champions of modern music on the guitar should provide a retrospective recording of Harrison's idiosyncratic contributions to the repertoire. Housed in New Albion's earth-toned, stylish packaging which, like the composer, entices the consumer with casual wildness, the new recording also surprises, as the composer did, with an intellectual rigor and honesty often obscured by outside appearances.

'Over the last thirty years, no one has done more for new music on the guitar than David Tanenbaum. Henze, Riley (Elder, younger), Harrison, and Kernis have all found champion, friend and interpreter in Tanenbaum. Thus, it with heavy heart that Tanenbaum offers up Serenado, a collection of original works and transcriptions, which span Harrison's fifty-year relationship with the guitar…Tanenbaums excellent program notes provide the background for his remarkable performance.'Andrew Hull, Guitarra Magazine
Tanenbaum performed the New York Premiere of Scenes from Nek Chand June 26 during the New York Guitar Seminar at Mannes College of Music.
An article on Lou Harrison and the Guitar by David Tanenbaum appeared in Guitart International Issue 4. Acoustic Guitar published an article by Tanenbaum on Harrison's Serenado in the February 2004 issue. Articles also appeared recently on Harrison by Tanenbaum in Soundboard and Guitar Review Magazines.