Recognized internationally as an outstanding performer and recording artist, a charismatic educator, and a transcriber and editor of both taste and intelligence, David Tanenbaum is one of the most admired classical guitarists of his generation. He has performed throughout the United States, Canada, Mexico, Europe, Australia, the former Soviet Union and Asia, and in 1988 he became the first American guitarist to be invited to perform in China by the Chinese government. He has been soloist with the Los Angeles Philharmonic, San Francisco Symphony, Minnesota Orchestra, London Sinfonietta, the Oakland Symphony, Vienna's ORF orchestra, with such eminent conductors as Esa-Pekka Salonen, Kent Nagano and John Adams.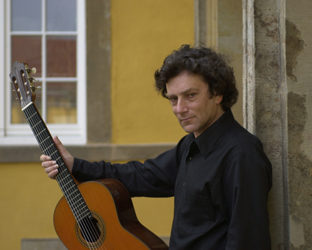 David Tanenbaum has been a featured soloist at many international festivals, including those of Bath, Luzern, Frankfurt, Barcelona and Vienna as well as numerous guitar festivals. In 1989, as President of the Second American Classical Guitar Congress, he commissioned five new works, including Rosewood by Henry Brant for a large guitar orchestra. He has subsequently conducted Rosewood more than a dozen times on four continents.
While his repertoire encompasses diverse styles, David Tanenbaum is recognized as one of today's most eloquent proponents of new guitar repertoire. Among the many works written for him is Hans Werner Henze's guitar concerto An Eine Aolsharfe, which he premiered throughout Europe and recorded with the composer conducting, Terry Riley's first guitar piece, Ascención, four works by 1998 Pulitzer Prize winner Aaron Jay Kernis, two pieces by Roberto Sierra, and a suite by Lou Harrison. He is currently working with Terry Riley on a series of 24 guitar pieces. He has toured extensively with Steve Reich and Musicians, was invited to Japan in 1991 by Toru Takemitsu, and has had a long association with the Ensemble Modern. As a chamber musician he has collaborated with, among others, the Kronos, Shanghai, Alexander and Chester String Quartets, dancer Tandy Beal and guitarist Manuel Barrueco. He is currently a member of the Pacific Guitar Ensemble and the San Francisco Contemporary Music Players.
David Tanenbaum's three dozen recordings, which reflect his broad repertoire interests, can be found on New Albion, EMI, Nonesuch, Ars Musici, Rhino, GSP, Albany, Audiofon, Bayer, Acoustic Music Records, Bridge, Stradivarius and others. His 2002 recording as soloist with Esa-Pekka Salonen and the Los Angeles Philharmonic in John Adam's Naive and Sentimental Music was nominated for a Grammy as the Best New Composition. His recording of the complete guitar works of Sofia Gubaidulina will come out on Naxos in June, 2015.
He has produced many editions of guitar music, including the David Tanenbaum Concert Series for Guitar Solo Publications. He has also written a series of three books, The Essential Studies, which analyze the etudes of Sor, Carcassi and Brouwer and compliment his recordings of those works on GSP, and his chapter on the Revival of the Classical Guitar in the 20th Century appears in the Cambridge Companion to the Guitar.
David Tanenbaum is currently Chair of the Guitar Department at the San Francisco Conservatory of Music, where he received the 1995 Oustanding Professor Award, and he has been Artist-In-Residence at the Manhattan School of Music. He is in demand for master classes worldwide. Mr. Tanenbaum's students have won many international competitions, and his former students hold teaching positions internationally.
David Tanenbaum studied guitar with Rolando Valdez-Blain, Aaron Shearer and Michael Lorimer, attending the San Francisco Conservatory and Peabody Conservatory. Further studies included work with pianist Jeanne Stark-Iochmans and harpsichordist Laurette Goldberg. He participated in the 1981 New York master class with Andres Segovia.