February 4, 2008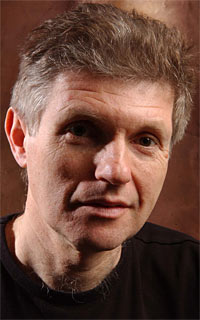 Jorge Liderman, whose suicide yesterday has shocked the music world here, was a kind, gentle man with a ready smile. He was also a composer of vigorous, rhythmically vital music, the kind of composer that guitarists cherish. Jorge first called me about ten years ago to talk about his writing for guitar. We knew each other by then from various events in the Bay Area, but did not yet call ourselves friends. Jorge said that he had wanted to write a guitar piece for years, that he played some but had been blocked trying to write for the instrument. "Perhaps I'm too close to the guitar," he said. He had heard me play recently, and thought I could be the catalyst.
And so we began. I gave him cd's to listen to and scores to study. I showed him examples of what I thought was great guitar writing. Meanwhile, I began to study his work. I found a style informed by his native Argentina, but mostly by Europeans like Stravinsky, Ligeti and Henze. He seemed least influenced by his immediate surroundings: the tonality of California composers like Lou Harrison, or the composers in academia.
There was a scintillating rhythmic vitality in his music that pervaded everything, there were transparent textures and long lines. He didn't bother to welcome the audience at the beginning of a piece or wave goodbye at the end: the music seemed to begin in mid-sentence and end there too, as if we got to wade into an endless running stream at some random point, and wade right back out some time later. I admired the unique sound world he created, and I thought the transparency, the rhythms and the lightness could all work well on the guitar.
The great British guitarist Julian Bream said you always want to get the second guitar piece from every composer. And it was indeed with that first piece that we struggled most. It ended up being a solo called Waking Dances, and the work continued after the premiere, even after the recording, when Jorge cut an already recorded movement that he decided didn't fit.
Working with him was fascinating. When he listened to his music he seemed to be hearing it for the first time. He listened with his head tilted and a little bemused smile on his face. Sometimes that look would turn into puzzlement. He was much more lenient with me as a player than he was with himself as a composer. One felt that we were never done with a piece, that it was always subject to change, that the pieces themselves were also part of some running stream.
We met for lunch often, to talk about music, projects, politics, anything. At one point he told me that he was lonely and wanted to meet someone, and soon enough Mimi entered his life and brought him happiness. Jorge and I would sometimes ride bikes around Berkeley together. One enduring image I have is of Jorge riding down the middle of the street, helmet askew, riding forwards but looking backwards to make some musical point to me, oblivious of all the horns blaring at him.
Once he got that first guitar piece written, he couldn't stop. He wrote two hours of music for guitar and violin, and three more works for me: Open Strings for guitar ensemble, Swirling Streams for guitar, bass clarinet and string trio, and Imaginary Tunes for guitar and string quartet, which I premiered with the Cuarteto Latinoamericano at his 50th birthday concert just three months ago.
And now, this incomprehensible news. He went in mid-stream, the day he was scheduled to give a public talk, the day before a world premiere, a month before a cd release. He didn't say goodbye, but I will. Farewell, my friend. We will all miss you.
« Back to Personal Losses | Elias Tanenbaum Eulogy | Aaron Shearer: A Remembrance »